Welcome to Dobbs & Neidle, P.C.
Dobbs & Neidle provides skilled legal counsel and services to both corporate and select individual clients. We represent a broad range of clients in diverse industries and pursuits. Our clients include a broad range of product and service providers – from telecommunications companies, internet providers, automotive suppliers and technical consulting partnerships to law firms and insurance companies, as well as governmental bodies and educational and charitable organizations. In addition to Michigan-based clients, we represent companies and individuals based in diverse geographical areas of the United States and other parts of the world.
Practice Areas
Location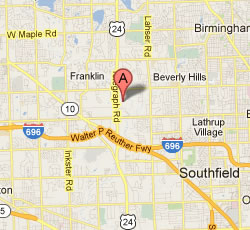 Gregory R. Neidle, Esq.
Dobbs & Neidle, P.C 30150 Telegraph Rd. - Suite 410 - Bingham Farms, MI 48025-4549
Phone: 248.723.9511 - Fax: 248.723.9531
Why Dobbs & Neidle
Why do clients select Dobbs & Neidle, and why have so many clients stayed with Dobbs & Neidle over many years? We believe that they do because we recognize and embrace the concept that the practice of law is a personal service profession. To us, the personal component means that we seek to establish long-term client relationships that are based on confidence, trust and mutual interest and respect. Service means an unstinting adherence to those practices that clients value most. Those practices include providing the highest caliber of legal analysis and work, being responsive to emergencies and deadlines, and having due regard to the special needs of each of our clients. They also include being accessible by, for example, responding to calls and correspondence promptly, and listening to our clients so we can best serve their needs in a responsive and efficient manner.

Gregory R. Neidle, Esq.